How to Help

Homeward Alliance Media & Publications
Newsletter – Sign up to receive email updates about our programs and initiatives (including the Murphy Center!), volunteer opportunities, event information, homelessness, and more. Please complete the form and click "Sign Up."
Social Media – Follow us on Facebook, Instagram, or Twitter.
Financial Donations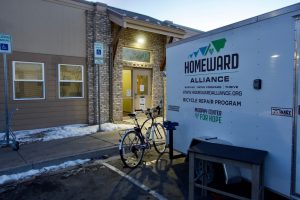 Make a Donation
(Online or by Check)
We are a 501(c)(3) non-profit organization, and all cash donations are tax deductible.
Our EIN # is 27-4641606
Prefer to pay by check?  Mail to "Homeward Alliance" P.O. Box 873 Fort Collins, CO 80522-0873.
Please include your mailing address and we will promptly sent you a thank you and tax receipt.
For any additional question, email Pam Brewer, our Development Director, at Pam@HomewardAlliance.org or call (970) 829-1162.
Please note:  If you pay through our portal, a tax receipt and thank you letter will be immediately sent to your email address.  If you don't receive one, please check your junk mail box.  Thank you!
Volunteer
Donate Your Time
Homeward Alliance Volunteers support various programs to help individuals and families who are experiencing homelessness or are at-risk of homelessness.
Amy Madden, Community Programs Manager/Volunteer Manager
(970) 430-6105
Visit our Volunteer Page here.
Product Donations
Donate Gear & Supplies
Please contact Brennan Snyder, Distribution Coordinator, for more information at Brennan@HomewardAlliance.org or (970) 829-1151.
PLEASE NOTE:
Donation Hours are M/W/F 2:00-4:00 PM at the Murphy Center for Hope.
For a complete list of Spring/Summer 2021 items accepted, please click HERE..
Due to  limited storage, we can not accept items not listed however we encourage you consult our list of of other local non-profits HERE.
---
The program below (Make a House a Home) is temporarily paused due to an overflow of donations. 
Check back in a few weeks for updates or email mahah@homewardalliance.org for the latest status.
Small Household Items for our Make a House a Home Program.
For information on how to donate household items, click HERE.  Please note, the process for donating small household items is different than the process for donating gear and supplies (as described above).  For more info, consult our list with instructions or email mahah@homewardalliance.org.  Thank you!