How to Help

Homeward Alliance Media & Publications
Newsletter – Sign up to receive email updates about our programs and initiatives (including the Murphy Center!), volunteer opportunities, event information, homelessness, and more. Please complete the form and click "Sign Up."
Social Media – Follow us on Facebook, Instagram, or Twitter.
Financial Donations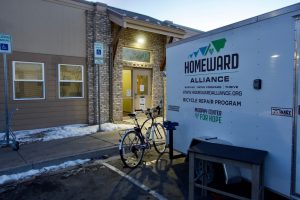 Make a Donation
(Online or by Check)
We are a 501(c)(3) non-profit organization, and all cash donations are tax deductible.
Our EIN # is 27-4641606
Prefer to pay by check?  Mail to "Homeward Alliance" P.O. Box 873 Fort Collins, CO 80522-0873.
Please include your mailing address and we will promptly sent you a thank you and tax receipt.
For any additional question, email Pam Brewer, our Development Director, at Pam@HomewardAlliance.org or call (970) 829-1162.
Please note:  If you pay through our portal, a tax receipt and thank you letter will be immediately sent to your email address.  If you don't receive one, please check your junk mail box.  Thank you!
Volunteer
Donate Your Time
Homeward Alliance Volunteers support various programs to help individuals and families who are experiencing homelessness or are at-risk of homelessness.
Point of Contact for Volunteers:
Serena Thomas, Community Programs Director
(970) 430-6105
Visit our Volunteer Page here.
Product Donations
Donate Gear & Supplies
Please contact Brennan Snyder, Distribution Coordinator, for more information at Brennan@HomewardAlliance.org or (970) 829-1151.
PLEASE NOTE:
Donation Hours are Mondays, Wednesdays and Fridays from 2:00-4:00 PM at the Murphy Center for Hope
For a complete list of WINTER 2020-2021 items accepted, please HERE.
We do, however, accept all types of seasonal clothing items for children (not just outerwear) year-round, sizes 5/6 -14/16 (no baby or toddler items) including shoes, boots and sneakers.
Due to limited storage, we can't accept adult dress/business clothing, street clothing, sweaters, out-of-season gear and other specific items.
Please consult the donation list.