Bike Repair
Our mission is to ensure that the individuals we serve have bikes that are safe, reliable and well-maintained; and, as a result of that, that they can get where they need to be. Many people who are homeless rely on bicycles as their primary mode of transportation. They use their bikes to get to work, to service providers and everywhere else. The bike program is an important part of a broader continuum of services — with Homeward Alliance and at the Murphy Center — that helps people survive, move forward and (ultimately) escape homelessness.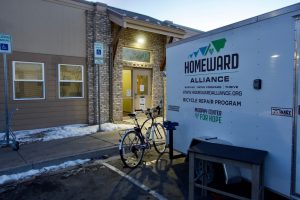 How do I get help?
Every other Friday (May – October) at the Murphy Center for Hope, a team of volunteer bike mechanics provides a free repair-and-maintenance clinic. The service is available to registered guests of the Murphy Center. Please ask the Front Desk for the Bike Team's schedule or contact Mark at mark@homewardalliance.org.
Murphy Center for Hope at 242 Conifer St, Fort Collins, CO 80524
How can I help?

Volunteer as a mechanic. We can use help at all experience levels. This could be a great way to help others while learning bike mechanic skills.
Donate funds to support the program.
How can I get the Bike Repair Team in my neighborhood or at my event?
Additional repair sessions can be scheduled (at no cost) throughout Larimer County at low-income neighborhoods, community events and fundraisers. If you are a service provider, business owner, member of a faith community or manager of a housing complex, neighborhood or HOA, contact the Bike Repair team to learn more about scheduling a free clinic at your location. Email our Bike Repair program lead, Mark at mark@homewardalliance.org for more information.